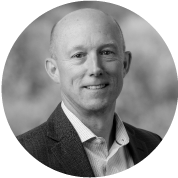 Andrew Carpenter, Ph.D.
Executive Vice President, Manufacturing, Science, and Technology
Andrew Carpenter, Ph.D., is EVP of Manufacturing, Science & Technology at Phlow Corporation. He is a 20+ year veteran of the pharmaceutical industry, where he started his career in drug discovery with the goal of identifying life-saving medicines or medicines that impacted patient's quality of life. That dream is near, as Andrew identified a candidate molecule that is currently on track to be launched in 2021 as a treatment for Alagille Syndrome, a rare genetic disorder affecting children. During his career, Andrew has led projects in multiple therapeutic areas (cardiovascular, obesity, diabetes) as well as different modalities (small molecule, peptide). He then carried his project leadership experience to the contract manufacturing industry, where he expanded his skill set into API and drug product manufacturing and found a new passion in continuous manufacturing. In 2020, Andrew joined Phlow™ to help build our world-class development capabilities in addition to using strategic partnerships to reliably supply affordable, high-quality essential medicines through US-based advanced manufacturing.