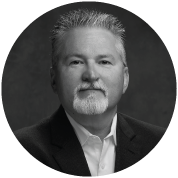 Kevin Roesch, Ph.D.
Vice President, Process Chemistry
Kevin Roesch, Ph.D. is Vice President of Process Chemistry at Phlow Corp. Kevin is an accomplished pharmaceutical industry professional with over 20 years of multidisciplinary experience in API chemical development and all aspects of Chemistry, Manufacturing, and Controls (CMC) including API process development, preformulation/characterization, cGMP manufacturing, CDMO management, tech transfers, cost saving process improvements, and regulatory affairs. Kevin has extensive pharmaceutical industry experience in development and commercialization of small-molecule pharmaceuticals with a focus on CMC from pre-clinical through commercial development and lifecycle mana​gement.
Kevin earned a B.S. degree in chemistry from Southern Illinois University and a Ph.D. in synthetic organic chemistry from Iowa State University. Prior to joining Phlow, Kevin was Director, Chemistry, Manufacturing, and Controls (CMC) at Deciphera Pharmaceuticals where his responsibilities included design and implementation of comprehensive API development strategies, development of phase-appropriate synthetic routes and control strategies, preformulation/physical properties characterization, and manufacturing of non-GMP and cGMP drug substance supplies from gram to multi-kilogram quantities. He has also held senior positions at Mallinckrodt Pharmaceuticals where he managed a group of Research and Development chemists as well as cross-functional teams working on numerous API process development and process improvement cost savings projects.
In 2022, Kevin joined Phlow™ to help our essential medicines impact company manufacture APIs and finished pharmaceutical products domestically for vital medicines critical to the future of healthcare.