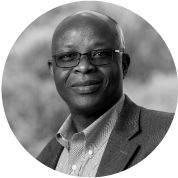 Modestus Obochi, Ph.D., MBA
Executive Vice President, Strategy and Business Development
Modestus Obochi (he goes by Modi) is an accomplished senior executive with over 25 years of diverse experiences growing revenues and shareholder values across biotech and pharma companies. A visionary leader, team builder, and patient-centric innovator, Modi's collaborative leadership style and operational expertise enable individuals and teams to consistently exceed their potentials and deliver superior, sustainable results.
Modi has successfully structured and closed multiple strategic transactions worth over $5B while holding leadership positions across marketing, portfolio strategy and management, and business development, including Global Head of Strategic Marketing and Global Expansion for Hospira's $3.5B specialty injectable pharmaceutical business; Head of Commercial Development for Pfizer's $7B injectable portfolio and Global Vice President for Baxter's $1B pharmaceutical business unit.
 
A recipient of several academic excellence awards and honors, Modi holds a Ph.D. in immunology from the University of British Columbia, Vancouver, Canada and an MBA from the Beedie School of Business of Simon Fraser University, Vancouver, Canada. He has published over 30 manuscripts, including journal articles, symposia and abstracts and is an inventor on several patents.