APIs and Finished Drug Products
A Resilient and Reliable Supply of Life-Changing Medicines
.
Phlow is on a bold mission to produce a reliable supply of the vital medicines necessary for the American population to sustain life and conquer disease.
Filling America's Medicine Cabinet
Phlow leverages its R&D lab co-located next to the United States Pharmacopeia (USP), its state-of-the-art pharmaceutical manufacturing facilities, and its extensive partnership network to deliver advanced manufacturing solutions, including continuous manufacturing capabilities to provide a reliable and affordable supply of high-quality essential medicines.
Leading the Way to National Medicine Supply Chain Security
Phlow's initial focus is to use advanced development and manufacturing methods to reshore critical APIs and reduce dependency on foreign supply chains. Phlow's program helps secure our Nation's essential medicine supply and medical countermeasures by bringing the development and manufacturing of these critical national pharmaceutical ingredient assets back home. Phlow has end-to-end expertise and capabilities to enable the advanced development and manufacturing of formulation-ready APIs for small molecule essential medicines and novel therapeutics. By providing innovative and stable solutions for onshore API production, Phlow helps the U.S. government protect the health of Americans with domestically-supplied life-changing APIs needed for lifesaving care.
To date, Phlow has delivered more than 2 million doses of essential medicines to the Strategic National Stockpile (SNS) to support the U.S. government's emergency response capabilities for the health of all Americans.
Putting Pediatric Patients First
Phlow's current finished drug product portfolio focuses on the most vulnerable and shockingly underserved population – pediatric patients
.
Today in the United States, children's hospitals struggle
to access needed medicines, resulting in compromised patient care, clinician frustration, and increased hospital pharmacy costs and inefficiencies. As a founding member of the
Children's Hospital Coalition (CHC)
, an unprecedented coalition of best-in-class children's hospitals, Phlow's finished drug products bring certainty and resiliency back to the supply chain.
A Sustainable, Domestic Supply of Life-Changing Medicines
The care of America's children has been unnecessarily impacted by shortages of essential medicines, we are on a mission to fix this problem. Phlow's finished drug portfolio is designed to start addressing this crisis and currently includes the following medicines with additional under development:

Rocuronium Bromide Injection
Form: Injectable
Strength: 10 mg / mL
NDC Number: 81565-204-02

Furosemide Injection, USP
Form: Injectable
Strength: 10 mg / mL
NDC Number: 81565-201-02

Dexamethasone Sodium Phosphate Injection, USP
Form: Injectable
Strength: 4 mg / mL
NDC Number: 81565-202-02

Heparin Sodium Injection, USP
Form: Injectable
Strength: 1000 USP units / mL
NDC Number: 81565-203-02

FENTANYL CITRATE injection, C-II
Form: Injectable
Strength: 50 mcg / mL
NDC Number: 81565-205-02

VECURONIUM BROMIDE FOR INJECTION
Form: Injectable
Strength: 10 mg / mL
(1 mg/mL when reconstituted to 10mL)
NDC Number: 81565-206-02
A Domestic API Pipeline Securing our Nation's Essential Medicines Supply
Phlow continues to go beyond the boundaries of the status-quo with a pipeline specifically designed to address the shortages of essential medicine APIs critical to the health of our nation.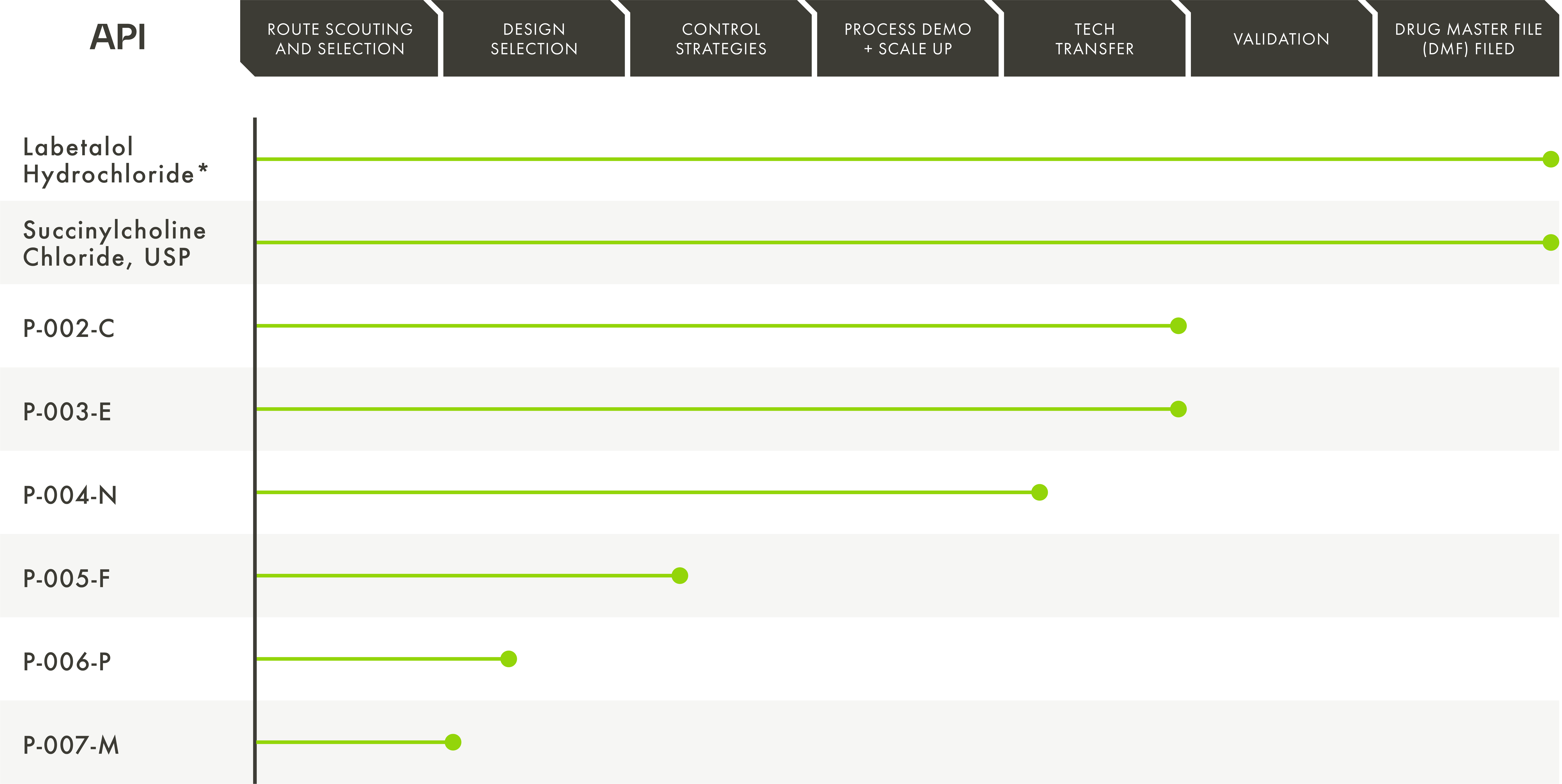 *DMF Filed on behalf of Phlow and in partnership with AMPAC Fine Chemicals – an SK Pharmteco Company.